Description
Machine safety windows -
safety in sight
On the one hand, viewing windows for lathes, milling machines and other machine tools prevent workpieces and fragments from being thrown out of the working area of the machine. Thus, they protect the user from injuries. On the other hand, our machine windows allow a clear view of the manufacturing process. So the theory, in the field of machine protection. In practice, safety glass only fulfills this task optimally, if it reliably withstands extreme stresses and convinces with maximum transparency. Which brings us to SICURTEC® machine safety windows.
Because when it comes to safety in the production process, the safety windows for machines from SICURTEC® make no compromises.
Maximum protection for employees
Maximum protection for inventory
Protection against machine failures
4 x the right decision for optimal machine protection
SICURTEC® machine safety windows are manufactured exclusively with highly developed components. The polycarbonate protective windows guarantee resistance beyond the double maximum value of the EN as well as absolute transparency. In combination with high-quality frames and spin windows, they merge into an integrated overall solution with four different variants.
All SICURTEC® product lines in the flied of machine safety windows can be freely combined with each other and equipped with other suitable products, such as frame systems and spin windows. Special solutions are also possible.
SICURTEC® stands for worldwide
security with 360° service
SICURTEC® stands for worldwide security. This also applies to product quality and service quality. Starting with personal and individual advice from our experts through flawless production to on-time delivery worldwide, customers can rely on a relaxed and safe process.
Security with 360° service
Advantages
Because every advantage counts, when it comes to machine safety windows
Advantages exist, to being used. Because in the hard competition for customers an market shares every aspect of use counts. With this in mind, SICURTEC® invites you to use the following advantages of SICURTEC® machine safety windows as strong sales arguments for your machines.
The most important advantages of SICURTEC® machine safety windows at a glance:
Effective protection of employees, inventory and companies
Clear view of manufacturing processes
Highest possible resistance to chemical influences
Symmetrical and asymmetrical structures possible
Can be equipped with additional options, frame systems and spin windows
Combinable with all SICURTEC® products
Multifunctionality through additional options
Individual solutions on customer request and special sizes on customer request
Hand-made
Standards and recommendations
Machine windows with best recommendations!
A machine safety window far beyond the norm
SICURTEC® machine safety windows were developed to push the limits of puncture resistance further up. The relevant standards only serve SICURTEC® as a guide. In fact, the relevant characteristics of SICURTEC® products are in some cases far above the level set by standards.
EN ISO 23125 (EN 12415 lathes)
EN 16090-1 (machining centres)
EN 13218 (grinding centres)
The standard for lathes EN ISO 23125 ends at 8,000 joules, SICURTEC® builds elements that have been tested up to over 16,000 joules.
Standards in detail (PDF)
The fact is: Machine safety windows can lose their retention capacity. They become brittle. The unprotected contact with cooling lubricants and unsuitable cleaning agents speeds up the process many times over. It is therefore necessary to protect the polycarbonate. The graphic below clearly shows how this protection affects the longevity.
Window replacement every 5 years
Laminated polycarbonate safety glass, gluing in a stainless steel frame or edge protection with aluminum tape or NBR rubber profiles protect polycarbonate against rapid aging. Nevertheless, the German BIA as well as the VDW and IWF recommend to replace machine safety windows after 5 years. Pure polycarbonate windows at least every 2 years!
When to replace windows immediately:
Deformation (bulging) of the polycarbonate due to an impact 
Leaky edge seal
Coolant is between the various components
Destruction or damage to one of the window sides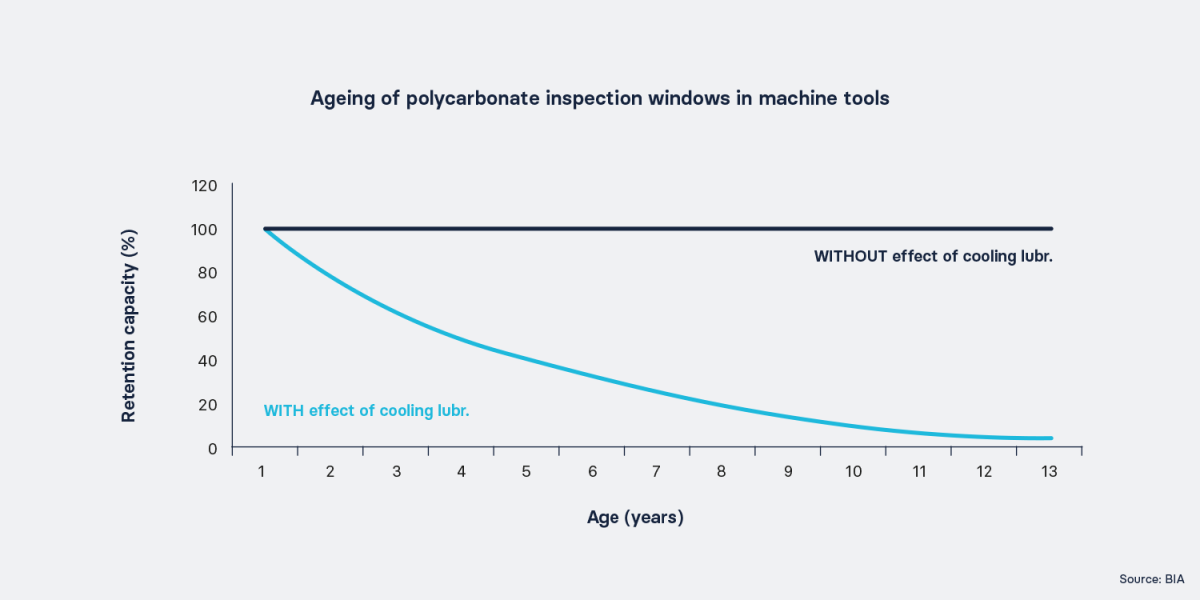 Frame systems and seals
Frame systems for perfect sealing of the machine safety window
Chemical influences, such as contact with cooling lubricants, can cause considerable damage to machine safety windows. Unless, for example, the window with glass is glued into a stainless steel frame. As a all-round provider, we provide you with three standard frame profiles with L, Z and S profiles. Due to the product flexibility, all three profile types can be adapted to any pane thickness according to the desired retention effect. Same applies to frames, which are developed by us especially to customer requirements and which are produced as already glued and finished elements.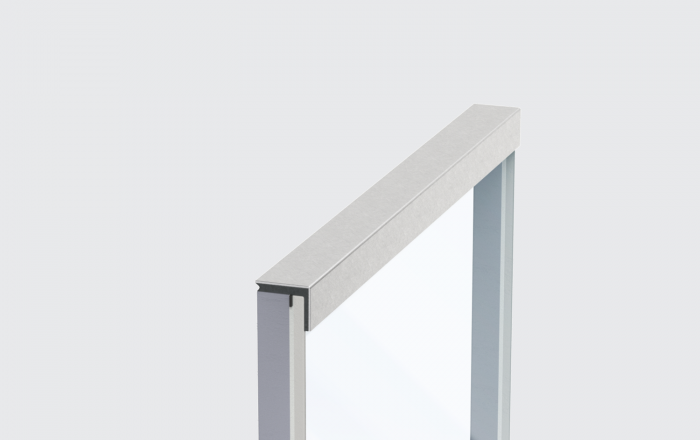 Frame system with L-profile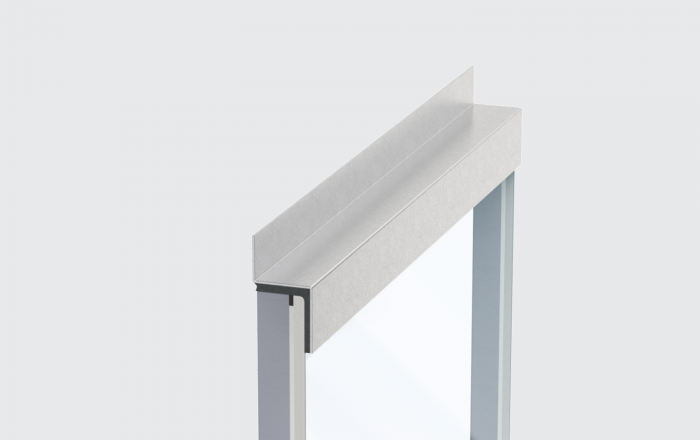 Frame system with Z profile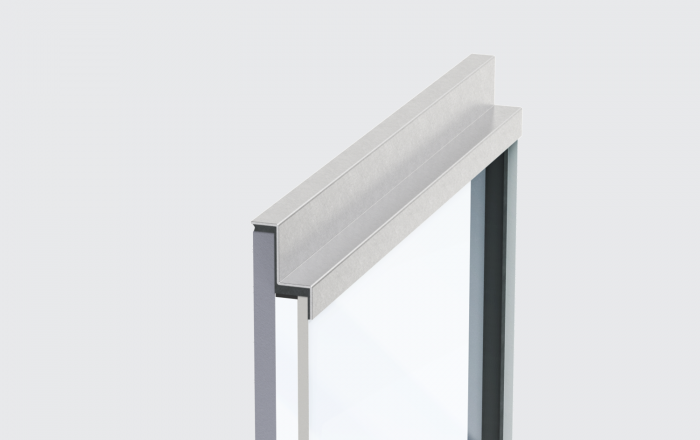 Frame system with S-profile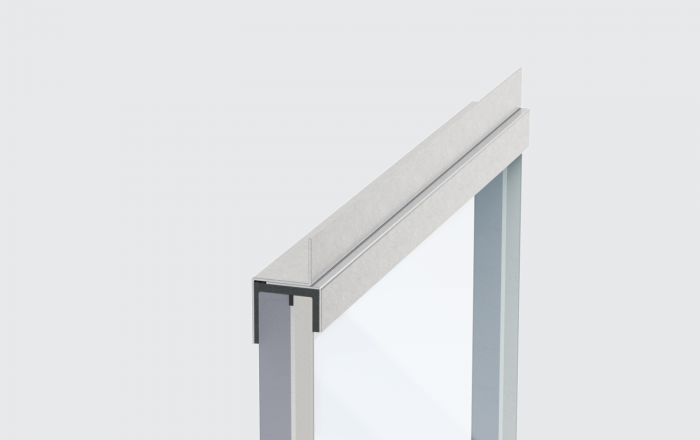 Frame system on customer request
Further edge protection
Are you using an existing frame profile? No problem. The options NBR and ALU are compatible with every frame profile.
ALU
Aluminum tape edge protection
Spin windows
Spin windows provide an extra clear view of the manufacturing process. As general representative of ROTOCLEAR, SICURTEC® not only implements the high-quality spin windows in the machine safety windows, but also offers them individually. The same applies to VISIPORT products.
Cutting system
Fixed-size cuts on our
own cutting system
If one wants to be closer to the customer, one also has to be able to react quickly. SICURTEC® offers precisely this advantage with its own plate storage and the individual, electronically controlled cutting system with an integrated optimization program.
This enables us to cut our Makrolon and Lexan polycarbonate sheets to the desired dimensions quickly and precisely. You benefit from particularly short production cycles, extremely short delivery times and the option of picking them up at our plant.