The benefit of ROTOCLEAR S3 spin windows is as simple as it is convincing: In combination with SICURTEC® machine safety windows, they provide a clear view of the production process even under the toughest conditions.
Advantages
The most important
advantages at a glance:
Suitable for all types of CNC milling and lathes, machining centers and test benches
Maximum transparency and security for the user
Absolutely tight and functionally reliable system due to integrated sealing air supply
Initial commissioning without adjustment measures thanks to autonomous control of the motor in the device
Optionally available with coated glass for 10 x higher scratch resistance
Fully automatic overload protection, emergency shutdown and restart
Worldwide lowest installation height
Glass change in just 1 minute
Diversity of perspectives with W-LAN camera
For additional perspectives, ROTOCLEAR integrates a camera into its S3 spin window. Two screws are enough for a remote view of the entire production process. Practical: The camera transmits the signals wirelessly via W-LAN and is powered by the machine. In short: The perfect option in connection with the machine safety windows from SICURTEC®!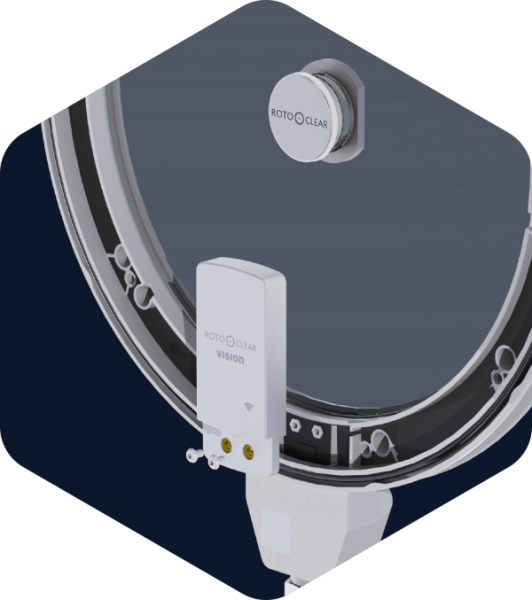 Variants
4 complete sets, 4 variants - each of them convinces with its special advantages
The most important advantages at a glance:
Best protection for the user
Everything from a single source at the plug & play pace: unpack, connect, done!
No gluing, can be used immediately without drying times
Assembly in record time
The most important advantages at a glance:
No further maintenance joints (sealing) around the device necessary
Construction height due to adhesive flange not thicker than screw variant
2-component adhesive perfectly compensates unevenness on glass or polycarbonate
Template for priming as well as all necessary individual parts for assembly included
The most important advantages at a glance:
Camera fully integrated in the device
Wireless transmission via W-LAN
Integration into the company network or access point possible
Power supply from Rotoclear S3, no further installation necessary
Recording
Multilingual menu
Possible as screw and glue variant
The most important advantages at a glance:
records in 4K & Full HD 60fps
siutable for spindle and workingspace monitoring
integrated online update
multilingual
Connection with 2 camera modules upt to 20 m distance
HDMI, Ethernet, Wi-FI, RTSP- Stream
After Sales
Accessories, individual parts or spare parts
The highest stress also take their toll on spin windows. In fact, the exceptionally high-quality models from Rotoclear can only withstand permanent shavings and impacts from broken parts for a certain time. After that, they should definitely be exchanged. The good news is that you don't have to replace the entire unit straight away. In the worst-case scenario, simply order a replacement pane from SICURTEC®. Cost-effective, hassle-free, fast!
Important: Our accessories and spare parts service is of course also aimed at all users of the ROTOCLEAR S and S2 product range.
Tip: Inform us at

office

[at]

sicurtec.com

about your series and the required spare parts and accessories. We will then send you an offer as soon as possible.